Edible Evanston is pleased to announce a new free training program for those just getting started growing their own food.
We are currently accepting applications to be part of this nine-month-long class experience. Group size will be limited to 8 individuals. (We're aiming to have a group of 6–8 people.) The class series is intended for those with no experience up to those with a few seasons of experience who wish to expand their knowledge and skills.
Class sessions and other benefits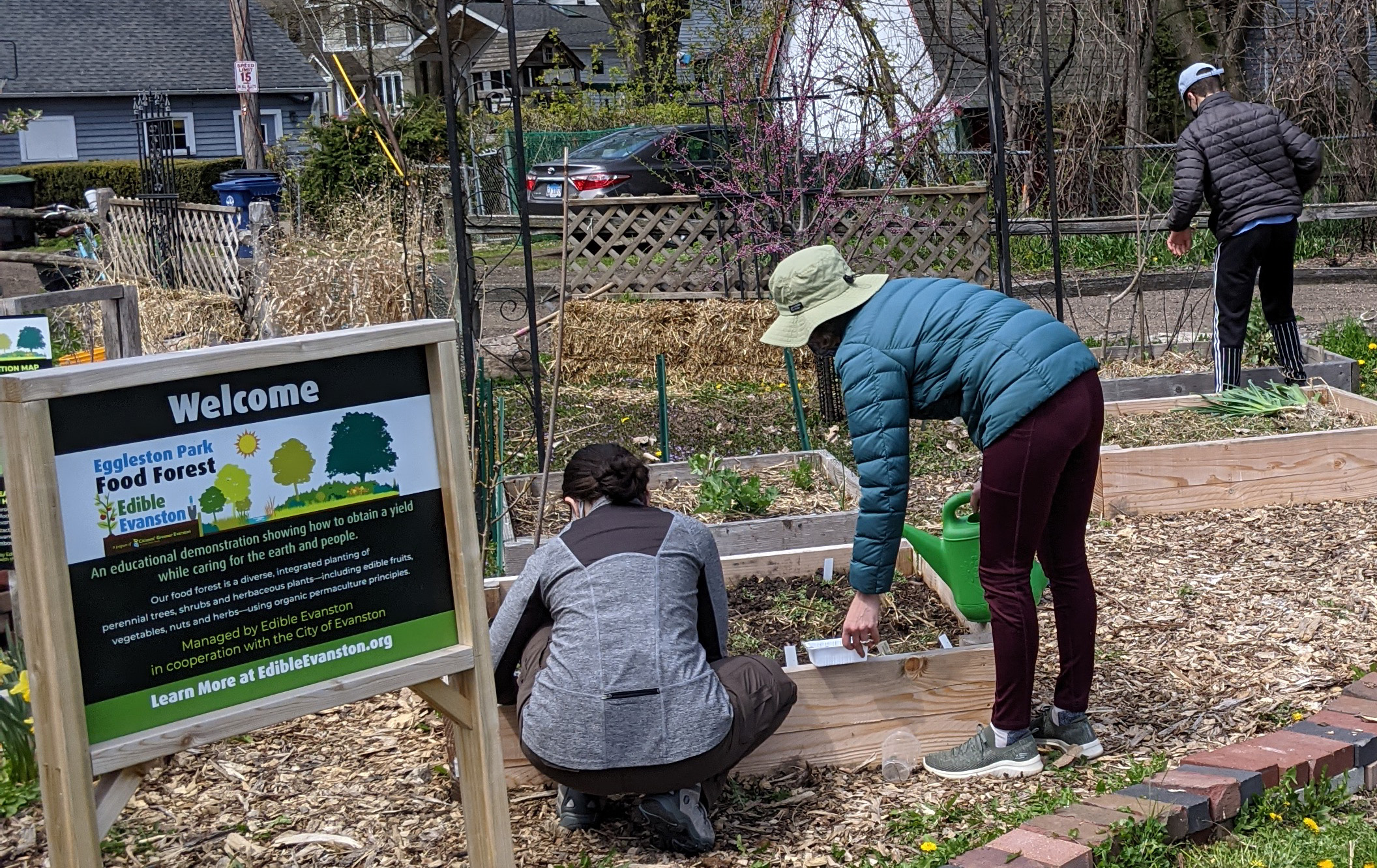 1 hour each month for 9 scheduled classes.
Most classes will take place in-person at the Eggleston Park Food Forest. We will use online classes for February and March sessions or if other conditions require it.
We may add additional optional online (or in-person) get-togethers to answer group questions in between sessions.
Participants can email or text inquires during the season.
Classes will be held on a weekend day (TBA). (Mid-summer classes could shift to weekday evening if all participants wish.) Your availability is requested on the application so we may determine a time which works for the group. 
Participants are encouraged to volunteer in the Food Forest on a more frequent basis to further your learning and experience.
2022 classes will be taught in English and applications are open to all residents of Evanston age 16 and up.
Family members are welcome to attend, but the classes will be taught at an adult level and the instruction will be focused on the individuals selected. 
Class members commit to an entire season. (We anticipate individual schedules may require a couple of missed classes.)
Nine-class new gardener session plan (subject to change):
February: Planning, selecting, growing calendar
March: Seed starting mini-class
April: Soil preparation
May: Planting techniques—spacing, thinning, interplanting
June: Trellising, pruning, plant supports
July: Watering, weeding, mulching
August: Disease and pest management
September: Harvesting and storage
October: Putting the garden to bed/planning for next season
Classes will be held in Edible Evanston's Eggleston Park Food Forest. Training sessions will use the four raised beds, the in-ground growing areas of annual vegetable plants, plus a straw-bale growing demonstration area. Produce grown in the food forest is generally donated to food pantries through Edible Evanston's Producing Sharing program.
Note: This program does not provide any personal growing space.
The purpose of this series is to have hands-on experience while learning concepts and skills. We expect participants will apply this in their own garden space (at home, in community garden plots, or elsewhere), but it's not required that you currently have a place to garden in order to participate.
A brief biography, your plant-growing experience, and the reasons you wish to participate are part of the application and selection process.
Applications are closed for the 2022 series. We plan to notify applicants by February 1 regarding selection.